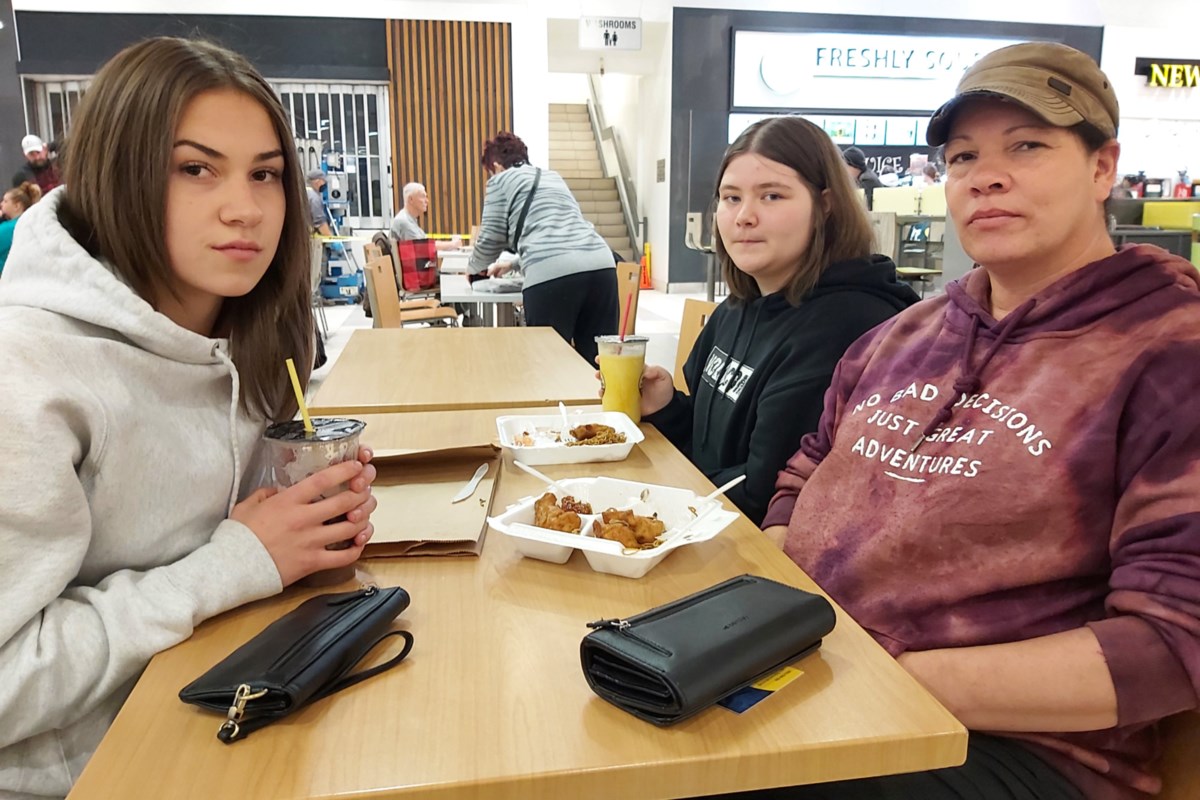 'We don't like online learning,' students say as strike looms
Families are waiting to see the outcome of ongoing negotiations between the provincial government and CUPE. Schools will start closing on Monday in the event of a strike
Ontario elementary and secondary school students – and their parents – are preparing for a return to closed schools and home-based online learning if the Ontario government and education workers represented by CUPE are failing to reach an agreement in their current labor dispute this weekend.
Students have already gone through more than an extended period of online learning due to COVID lockdowns, separated from classroom structure, friends, sports, and a variety of extracurricular activities.
Friday was PA day for teachers, so SooToday visited Station Mall where a few students shared their thoughts on a possible return to online learning.
"I don't like it," said Heidi, a Grade 10 student at École Secondaire l'Orée des Bois in Dubreuilville, while visiting the waterfront mall in Sault with friends on Friday.
"In e-learning, we are at home and everyone is doing their own thing. It's easy to get distracted. We have access to our phones so we don't pay as much attention to what is going on, but also the teacher is not there to help you individually. It's going to affect my grades," Heidi said.
"I don't think it's good," said Haylee, a Grade 11 student at Hornepayne Secondary School.
"I need a teacher in front of me, who personally helps me individually. It's hard on a screen. You don't get much communication with the teachers. A lot of people don't turn on their cameras so you can't see their faces. It's hard to listen to a computer and watch it for hours a day.
"We haven't had our sports for two years. We just got back to it and with a strike we may not be able to continue our tournaments. It will affect many of us. I play volleyball and basketball, and we're about to go to a volleyball tournament in Wawa in two weeks and now we don't know if it's going to happen or not," said Haylee.
"It's really not nice for the kids, for them to go on strike again," said Shabnam Shafi, a Mississauga parent who was interviewed for a Canadian Press story on Friday. "But (the union) should get what they are asking for, I think they have to negotiate and they have to come to an agreement that is good for everyone. The children must be in school. »
CUPE said the two sides recently agreed to a raise of $1 an hour each year, or about 3.59% per year, but the union is still fighting for higher staffing levels for helpers. teachers, librarians, babysitters, secretaries and early childhood educators.
The union and the government must negotiate throughout the weekend. Education Minister Stephen Lecce said the government had made several improved offers and asked for no concessions.
A spokeswoman for Lecce said in a statement on Friday that the government was "disappointed" that pupils could be out of school again next week. "After two years of pandemic disruption, students need to be in the classroom to learn. That's where they deserve to be. We'll stay at the table and ready for a fair deal that invests more in low-income workers. and, most importantly, keep the kids in class," said Caitlin Clark.
Meanwhile, local students are eagerly awaiting and dreading a possible return to online learning.
"We have just resumed a normal school year and they are already taking it away from us. They take away our class time and our high school experience," said Faythe, a Grade 11 student at Korah Collegiate.
She is not a fan of e-learning.
"It's getting boring. I lose my motivation when I'm at home. It's the teachers who motivate me to do my schoolwork and I don't have that at home.
"I really hope there won't be a strike. Missed seeing my friends, missed routine (during COVID lockdowns). This is where I see my friends," Faythe said.
"I don't like e-learning. If you have to take a test, it's so hard," said Aaron, a Grade 12 student at St. Mary's College.
"It's been a bit lonely," Aaron said, referring to previous periods of online learning during COVID lockdowns.
"You can't really see your friends. All you see is your teacher and some emojis for people. It's not the same thing."
"I'm not going to like this," said an 8th grade student at Holy Cross Catholic Elementary School who asked not to be identified.
"I'm not going to like it because I'm in school sports and I couldn't do that anymore. I feel like I can't really learn online because there are distractions in a home environment," the student said.
"In my opinion, I find online learning boring because I'm a person who loves school, being with friends and socializing. It doesn't help at all," said Jadyn, a grade 6 student at Holy Cross Catholic Primary School.
"It's boring to have to learn at home and sometimes my eyes hurt when looking at the computer. If I don't know how to do something and my parents don't, then what should I do? The teachers explain what we have to do, which pages we have to read, when is the deadline for the homework and that's about it.
"I just started an outdoor program where you learn outdoors in the morning in St. Kateri. It's hard to get to know people, connect with them, and make lifelong friends when you're at home.
"I like to be active and it's hard to be active when you have to sit on the couch and work on a computer," Jadyn said.
The provincial government had previously introduced a bill – Bill 28 – that would have made a strike illegal and imposed a settlement on workers represented by CUPE.
Earlier this week, the province repealed Bill 28 and CUPE members returned to work, with both sides agreeing to a 3.59% wage increase, but CUPE still wants higher staffing levels and early childhood educators in every kindergarten class.
The Ontario government and CUPE will spend the weekend at the bargaining table, with a 5 p.m. deadline Sunday to reach a staffing deal.
In the event of a strike, the Huron-Superior Catholic District School Board has asked its students not to attend school starting Monday, November 21.
The Algoma District School Board said all schools in Elliot Lake and Blind River will remain open and classes will continue in person as those schools will not be impacted by a strike.
In all other areas of the Algoma District, if the strike continues Tuesday, ADSB schools will continue online learning beginning Nov. 24.