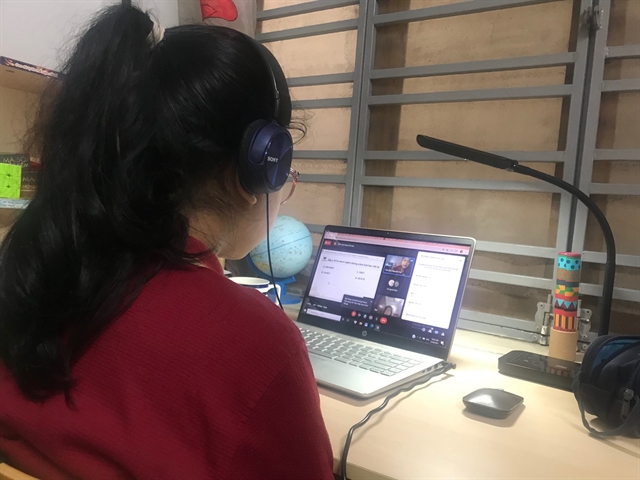 Hanoi 1st-6th graders return to online learning
March 1, 2022
HANOI – Students in grades one through six in the 18 suburban districts and Hà Nội City are returning to online learning from February 28 as part of local efforts to curb COVID-19.
The People's Committee of Hà Nội made the decision on February 27 based on the proposal of the Ministry of Education and Training.
This decision was prompted by an increase in the growing number of new infections in the community, including in schools, the fact that students in these classes have not yet been vaccinated against COVID-19 and concerns from parents.
The municipal people's committee also instructed district governments to base their decisions on the COVID-19 situation in their localities and proposals from local educational institutions to flexibly switch between in-person and online learning to ensure the safety of students and teachers.
Students in grades one through six from the 18 suburban districts and Hà Nội City resumed in-person learning on February 10. Meanwhile, schools remain closed for those in urban districts.
The capital is expected to experience the peak of the current COVID-19 outbreak in mid-March, according to Hà Nội People's Committee Chairman Chu Ngọc Anh.
The situation is complicated in Hà Nội because more than 10,000 new patients have been reported daily and 76 communes and neighborhoods (12.8% of the total) have seen their high risk level at level 3 (high risk).
However, 96% of patients are mild cases with no symptoms and 95% are treated at home.